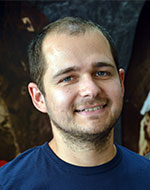 Sergei Mihalev
Chief Mine Surveyor, Dundee Precious Metals Chelopech EAD
Sergei is among the few who've chosen their career path at an early age. He studied geodesy in high school and later on took his second University degree in Mine Survey and Geodesy. He started working for Dundee Precious Metals Chelopech EAD in 2010, while he was still a student at the St.Ivan Rilski University of Mining and Geology. He was promoted to Senior Surveyor in 2012 and then to Chief Mine Surveyor in 2014. He welcomes challenges and enjoys combining new technologies with traditional approaches in his work.
"Mine surveyors are also known as the "eyes of the miner", since orientation in an underground mine would be pretty hard without the help of mine survey technologies", says Sergei about the responsibilities related to his job.
25.06.2019 15:30 - 17:00 Session 3 - Royal Ballroom 3 (First Floor) | Royal 3 (first floor)
Digital future of mining
Digitalization is getting into mining, shattering the stereotype of men with helmets, their faces dirty with dust, digging coal. For many years now Dundee Precious Metals has distanced itself from this image automating processes and working its way to digitalization. The digital future of mining is already here.