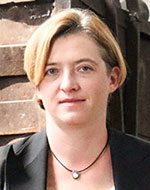 Paulina Codogni
Owner, "Firma Codogni" Sp.j.
Paulina Codogni is the owner of "Firma Codogni" Sp.j. which is a family company and was established by her father in 1990. She is a graduate of Warsaw School of Economics where she completed a double Master of Arts program – in Finance and Banking and in International Economics. She is Doctor of Political Science and author of a few books and numerous articles.
26.06.2019 16:00 - 17:30 Session 6 - Royal Ballroom 3 (First Floor) | Royal 3 (first floor)
Making mills more sustainable by using grinding balls made of recycled rail
In my presentation I would like to focus on grinding media production method, which, as far as we know, is the most sustainable and competitive (quality vs. price). The main feature of this method involves using a very high quality scrap material for production, that is scrap rails, which are recycled in the process. This innovative process involves low energy and water consumption. Thanks to this, the products can be both of high quality and competitive as for their prices. Nowadays the owners as well as executive directors of mines aim to act in the most sustainable way possible, but they also want to cooperate with partners which guarantee not only high quality but also sustainable methods of production. The method of production that I am going to present meets their expectations.