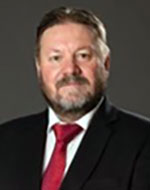 Director Mining, Lazarus Mining
Anthony Lund is an International Mining Professional with over 30 years experience in open pit / underground hard rock mines.
He has worked in most continents and numerous countries throughout the world for Mining Companies, Consulting Firms and Contractors.
The roles undertaken ranging from Underground Laborer to Company Director and nearly everything in between.
He is proud to be working for Lazarus Mining in the capacity as Director of Mining.
25.06.2019 15:30 - 17:00 Session 3 - Royal Ballroom 3 (First Floor) | Royal 3 (first floor)
How do you get a historic Socialist historic mine into the digital age?
The process and the pit falls:
– Plans 50 years old hand drawn
– Scans that are distorted i.e. not true to grid spacing
– Data tables on plans that are not legible
– Survey stations on some of the plans and not others
– Where is everything in space Drive outlines floor Diamond drill holes somewhere up the walls Channels somewhere on the walls, lines on plans do not match sample intervals in tables
– Channels sample numbers not sequential
– What was the drive height?
– Are the tunnels square arched or something else
So how do you get from paper into digital 3D data?
Surely OCR software will work? With poor scans and Russian text. No chance.
So hand data entry Tables into excels
Next digitise plans. That's easy again you can vectorise in software and then translate transform? With what software again do you use here. Are the results correct. So digitise off the plans into digital form. Opps we used only used one location point so plans are distorted and grids and data do not line up with correct special positions? You need at least 3 reference points to realign plans 4 is better.
Next multiple scans do the edges of the levels line up? Then the channels on the plans are outside the dive walls? How is this possible when they are taken from the walls? So change wall channel and diamond hole elevations then input them into Geological database. Sounds simple?
What is required? The following tables:
– Collar
– Hole Survey
– Assay Table
– Geological Table
So how do we get this data? Are there any short cuts... The secret is clean data and check and check again before the data is loaded into the final database the check again for errors.