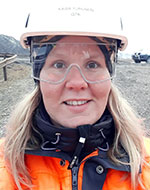 Scientific Coordinator, Research Scientist, Geological Survey of Finland (GTK)
Kaisa Turunen (MSc) works as a Research scientist at the Geological Survey of Finland with seven years of expertise studying the environmental issues of mining. She specialises in mine water related emissions and is currently conducting PhD studies at the University of Helsinki with a research topic of "Mine effluent impacted surface and groundwaters: implications for tracer and hydraulic applications at the mine-site scale". Currently her work includes also the Scientific coordination of the Horizon2020-project MIREU – Mining and Metallurgy regions within EU. Previously she worked as a hydrogeologist at the Finnish Environment Institute.
25.06.2019 11:00 - 12:30 Session 1 - Royal Ballroom 3 (First Floor) | Royal 3 (first floor)
Greater cooperation between Mining and Metallurgy regions within the EU
Despite the long mining tradition of Europe, the public awareness of the need for raw materials in everyday life and the public acceptance of mining have decreased over the last few decades. Controversially, the import reliance for certain raw materials considered to be critical for the EU's economy remains close to 100 % and the total EU28 contribution to overall raw materials supply is around 9 %. Further, though several policy instruments have been set up across Europe to address these issues, the cooperation between the European mining and metallurgy regions has been practically non-existing.
To improve this situation, the European project MIREU establishes a network of mining and metallurgy regions across Europe. Its aim is to ensure the sustained and sustainable supply of mineral raw materials to the EU and to create a 'bottom-up' climate for improved acceptance of extractive industries. MIREU will develop pan-European social responsibility standards for the mining industry; redefine the role of regional regulatory authorities regarding Social License to Operate; and provide concrete tools for all affected stakeholders to improve transparency and communication, with the ultimate aim of building trust. The MIREU network supports regions in maintaining and initiating extractive activities as part of their business plan for sustained and enhanced development. The vision is to foster synergies to benefit the EU mining and metallurgy sector as a whole by promoting investment, innovation and growth in the sector.
The MIREU regions recognize the extractive industries not only as important to their own development but also to meet the raw materials need of Europe. MIREU welcomes all Mining and Metallurgy Regions to join the Network.
MIREU project has received funding from the European Union's Horizon 2020 research and innovation programme under grant agreement No 776811.