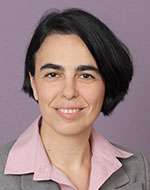 Maria Natcheva-Schwarz
Manager, EnviroChemie Bulgaria EOOD
Maria Natcheva-Schwarz has graduated from University of Chemical Technology and Metallurgy in Sofia, Bulgaria. She was involved in R&D projects in Hamburg University of Technology, the Bulgarian Academy of Sciences and Institute of Chemical Engineering. She is a Doctor of Environmental science. Maria has over 20 years of experience in the field of waste water treatment. She has been a manager of EnviroChemie Bulgaria since 2007.
26.06.2019 11:00 - 12:45 Session 4 - Royal Ballroom 3 (First Floor) | Royal 3 (first floor)
Treatment of waste water from mining industry – examples of good practice in EnviroChemie`s projects
EnviroChemie is a leading engineering company for industrial water treatment, water circulation and wastewater treatment. The company has a lot of experience in the erection of treatment plants for waste water from mining industry. The presentation will give practical examples of implementation of innovative technologies for treatment of waste water from mining industry, as well as for recovery of valuable substances from the waste water.