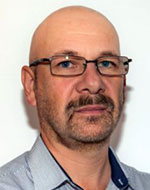 Vladislav Trashliev
Director Geology and Concessions, Geotechmin OOD
Vladislav has over 25 years of experience in geology, mining and economic evaluation living and working in Africa, Australia, Asia and SE Europe, where he has held number of managerial and executive roles. His core expertise is in structural and economic geology, geostatistics, resource development and mine management across different range of commodities; gold, copper, base metals, iron, PMG, vanadium. He has been responsible for planning and managing large resource development projects and evaluation of new business or acquisition opportunities. He has had several major breakthroughs in his career where profitability have tremendously increased following his advice.
25.06.2019 13:30 - 15:00 Session 2 - Royal Ballroom 3 (First Floor) | Royal 3 (first floor)
Guiding Your Mine Operation into Success
Geotechmin has assisted in the development and performance of mines around the world and this presentation will demonstrate that there is no single "silver bullet" solution for all mine operations.Productivity remains the number one operational risk in the mining sector particularly in the bulk commodities. To address the productivity gap, often the first choice to mine operators is to deploy some random digital solutions and still stick to the old conventional mining methods, citing lack of cost-benefit visibility. Digital technologies offer a gamut of solutions and distinct benefits, but, it is employing the most relevant technology to the company's business model that is most crucial.
Geotechmin's approach is to deploy "out of the box mindset" tailored to the specific needs of our clients that will help them manage variability and hence improve productivity.
We believe there are three key elements in this process:
– Digital alignment to the productivity agenda of each mine operations;
– Implementation pathway of commercial solutions from other industries, but not yet tested within the mining domain;
– Leadership and culture to support miners during the time of their digital transformation.
To highlight these points we will present several successful case stories implemented by our clients.