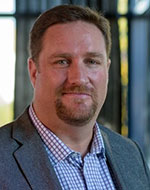 Niel Prinsloo
Regional Manager EMEA, Wenco International Mining Systems
Niel Prinsloo is the Regional Manager EMEA for Wenco International Mining Systems. He has been involved in a variety of technologies for the past 15 years and has extensive experience in production and technical services orientated mining technologies for applications like Geology, Geotechnical, Fleet Management and Surveying.
25.06.2019 15:30 - 17:00 Session 3 - Royal Ballroom 3 (First Floor) | Royal 3 (first floor)
Hitachi's Vision for Open Interoperable Autonomy
Hitachi Construction Machinery (HCM) holds a clear and distinct vision for the future of autonomous mining that stands in sharp contrast to the closed system approach of other AHS providers operating in the mining industry. Now, for the first time, Hitachi is set to publicly share this vision and its associated approach for achieving mining autonomy.
Hitachi envisions the future of autonomous mining as grounded in principles of open standards and technological interoperability, diverging with the closed OEM model followed by other vendors of autonomous systems. Hitachi is now actively serving as the mining industry's Champion of new autonomous entrants into Mining and working diligently with industrial partners in support of this concept.
In this session, Hitachi will reveal its strategy for autonomous mining and its approach for enabling new entrants with innovative solutions to interface with existing infrastructure at Tier One mines. It will also underscore the advantages of this approach in contrast to closed technology models that necessitate adoption of single-vendor solutions in order to realise the gains of mining autonomy.