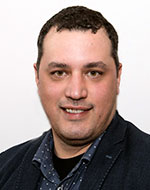 Mladen Nedkov
Deputy IT Director, Ellatzite-Med AD
Mladen Nedkov started his career as a System administrator at Ellatzite-Med AD company in 2003 year and since than he used to be a Manager of Informational system in mining division and currently is Deputy IT Director of the company.
He used to be associated assistant at Technical university of Sofia in the Computer operation systems discipline.
His education started at Secondary school of Computer Science at Pravets town, continuing to the Technical university of Sofia where he graduated with Informational systems profile in Computer science and technologies faculty. His master degree is at Business administration graduated at the Technical university of Sofia.
Mladen Nedkov successfully accomplished Cisco CCNA courses of networking. He is also a Microsoft certified Professional with his knowledge's at Windows server Active directory and Microsoft exchange products.
He speaks English and Russian language.
Mladen Nedkov is awarded with the award Young scientist of 2017 of Scientific and Technical Union of Mining and Geology.
During his career at Ellatzite-Med AD, he has successfully implemented some of the biggest digital innovations at the company.
With his project for High-precision guidance of shovels and drills with the ProVision system, Ellatzite-Med AD have been awarded, with the price Innovation of 2016 of the Bulgarian mine chamber.
25.06.2019 15:30 - 17:00 Session 3 - Royal Ballroom 3 (First Floor) | Royal 3 (first floor)
Mass customization in digital mining
In the 21st century, everything is getting digital and the prehistoric art of mining is not stepping back as well. Nevertheless, digitalization in mining is not only with implementing technologies, it is an art of customization for every single mine. After privatization, Ellatzite-Med AD accepted the digitalization challenge and started using modern digital technologies for every day operations and now it is more or less doing the digital mining. Starting it with the automation of every single process to implementing huge software platforms for automated process management and fleet management solutions.