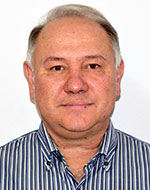 Georgi Magaranov
Senior Exploration Manager, Mundoro Capital Inc.
Mr. Magaranov has over 19 years international mineral exploration and evaluation experience in a range of geographic locations in Eastern Europe, Middle East, Latin America, West Africa and Asia. Much of his experience was gained working as project and senior project geologist for Anglo American and Rio Tinto. He has managed drilling programs, designed and participated in targets generation and project evaluation programs for Gold, base metals and iron ore in the Russian Far East, Chile, Turkey, Iran, Mali and Ghana (West Africa). Mr. Magaranov is a Qualified Person as defined by National Instrument 43-101, and is a Member of the Institute of Geologists of Ireland, European Federation of Geologists, Bulgarian Geological Society and the Society of the Economic Geologists. Mr. Magaranov holds MSc degree in Exploration and Economic geology from the University of Mining and Geology, Sofia, Bulgaria.
25.06.2019 13:30 - 15:00 Session 2 - Royal Ballroom 3 (First Floor) | Royal 3 (first floor)
Mundoro overview of Bulgarian Projects
The presentation will give an update on the made progress of Mundoro's projects in Bulgaria.