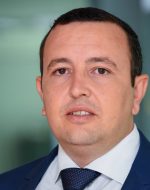 Ivan Mitev
Executive Director, Bulgarian Chamber of Mining and Geology
Education: Master of Engineering Geology and has a doctorate in underground construction.
Associate professor at the St. Ivan Rilski University of Mining and Geology at the Department of Underground Construction.
Professional experience is related to:
- participation in research teams in the fields of "Exploration, Mining and Processing of Minerals" and "Architecture, Civil Engineering and Geodesy".
- designer and head of research and design teams in the preparation of investment projects in the fields of "Underground Construction", "Geotechnics", "Construction of Buildings and Structures" and "Energy Efficiency"
25.06.2019 09:00 - 10:30 Keynote Session 1 - Royal Ballroom 3 (First Floor) | Royal 3 (first floor)
The Mineral-Raw Materials Industry in Bulgaria: Strategic Benefits and Sustainable Development