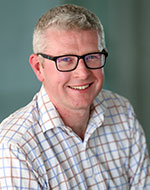 Richard Martindale
Principal Consultant (Geotechnical and Tailings Engineering), SRK Consulting (UK)
Richard Martindale (CEng; BSc; MSc; MCSM; MIMMM; FGS) is a Chartered Engineer and Principal Consultant (Geotechnical and Tailings Engineering) with over 15 years' experience. Richard specialises in; assessment and design of rock and soil slopes; numerical modelling; design and management of ground investigations and performance monitoring schemes; and, audits of slopes and waste storage facilities. Richard has worked on base, precious-metal, coal and industrial mineral projects throughout the UK, Europe, Africa, and the Americas.
26.06.2019 11:00 - 12:45 Session 4 - Royal Ballroom 3 (First Floor) | Royal 3 (first floor)
The Future of Tailings Management – Do Not Waste Your Waste
Consideration of innovative technologies and methods related to mine waste management are essential in order to effectively reduce the risks associated with the ever increasing volumes of tailings storage observed at mining operations worldwide. This presentation focuses on key areas of research and innovation related to tailings dewatering, transport and storage, which could offer potential solutions at the mines of the future.