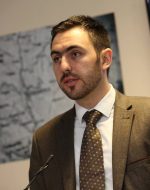 Nijaz Hlivnjak
Country manager, Geops-Bolkan Drilling Services Ltd
Country/Regional Director with a demonstrated history of working in the mineral exploration and metals industry. Skilled in International Relations, Corporate Communications and Project Management with particular experience in managing foreign investments. Holds Master's degree in Diplomacy and Foreign Policy from University of London, currently focused on the rising importance of the Resource Diplomacy of the Modern era and the political aspect of the growing trend of global exploration of raw materials and precious metals.
26.06.2019 13:45 - 15:45 Session 5 - Royal Ballroom 3 (First Floor) | Royal 3 (first floor)
New Challenges in Drilling
Focus on surface and underground drilling practices for the exploration and mining industry. Examples of large scale project management, large diameter drilling and directional drilling.