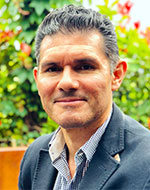 Felix Fornaguera
President Molycop Europe, Africa and Middle East, Molycop
Felix Fornaguera, President Molycop Europe, Africa and Middle East. Bachelor Degree in International Business, MPhil Comparative Politics. International Business executive with more than 20 years experience in the mining industry working for market leader suppliers such as Trelleborg, Metso and Molycop. Most recently, global responsible for Grinding Wears business line in Metso (Mill Lining and Grinding Media) and nowadays head of Molycop business in Europe, Africa and Middle East.
26.06.2019 16:00 - 17:30 Session 6 - Royal Ballroom 3 (First Floor) | Royal 3 (first floor)
Global mining consumables leader now in Europe
As the largest and most experienced supplier of mining consumables and associated services worldwide Molycop's quality is widely recognized as the industry leading standard. We proudly go to the ends of the earth for our customers and deliver highly developed and innovative products, which are routinely tested in our state-of-the-art facilities that ensure high breakage resistance and lowest consumption rates to deliver value for mines all over the globe.
With twelve global manufacturing locations with a combined installed manufacturing capacity in excess of 1.8 million tonnes per annum, Molycop has unrivaled redundancy and flexibility in the supply options that we can provide to customers.
Designed for maximum abrasion resistance using high carbon content and high hardness levels, Molycop products deliver outstanding performance.