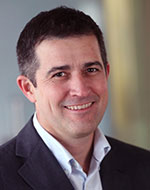 Chris Bray
Principal Mining Consultant, SRK Consulting (UK)
Chris Bray BEng, MAusIMM(CP) is a Principal Consultant (Mining) with 22 years' international experience, managing and contributing to a wide range of multidisciplinary technical mine studies, due diligence, operational support and international reporting projects. He has a strong operational background in underground and open pit mines and seeks to determine optimal and practical solutions for Clients based on their goals. In recent feasibility studies, Chris has been developing mine plans and cost models which consider tunnel boring machines, battery electric equipment and semi-autonomous materials handling applications.
25.06.2019 13:30 - 15:00 Session 2 - Royal Ballroom 3 (First Floor) | Royal 3 (first floor)
MODERATOR
26.06.2019 16:00 - 17:30 Session 6 - Royal Ballroom 3 (First Floor) | Royal 3 (first floor)
Underground mine planning: adapting to developing technologies and expectations
Developing equipment and technology for underground mining is materially impacting the way planning is approached from a design, schedule and cost perspective. Early stage trade-off studies are required for providing clear comparisons to traditional approaches with high expectations on the level of detail and accuracy to find a path for the project. This presentation focuses on some of the key areas where underground mine planning considerations are changing including rapid access development and battery-electric equipment.